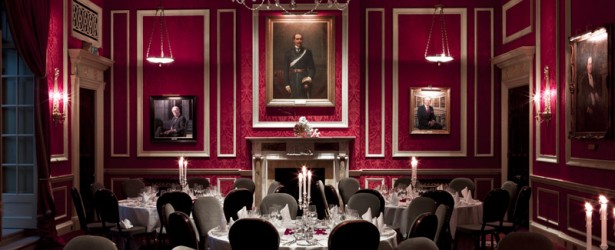 Wine tasting 2 at the RAC Club
Mature Burgundy & Piedmont
A second instalment of the September festivities organised by 'Clive St Hune' at the RAC Club. The wines served at 'Dinner Part Deux' were not served blind, thus saving me from further embarrassment…
Especial thanks again to Clive (who brought the majority of the wines) for organising the dinner – but also to the other four diners who brought with them treasured bottles.
1978 Le Montrachet, Delagrange Bachelet
N/A (RV)
Sadly this bottle was oxidised beyond the point of drinkability.
1989 Le Montrachet, Gagnard Delagrange
93/100 (RV)
Medium gold colour, completely correct for a wine of this age.
The owner of this bottle (it was generously brought to dinner by Richard Berkley-Matthews of Clarion Wines) was slightly concerned about decanting or opening this bottle much in advance of consumption because of its age. In the event his fears were groundless – it was fractionally sulphurey initially, but after 15 minutes in the glass it freshened considerably revealing complex notes of honey, violet, mineral, spice, smoke and meat on the nose.  On the palate this also developed and improved over the course of the evening, revealing lovely flavours of baked apple, quince and creamy custard.   Not a massive white Burgundy but a very delicious old-school Montrachet on this showing.  Lovely: thanks Barkers.
1996 Meursault Luchets, Roulot (Magnum)
94/100 (RV)
Pale gold colour.   Very pure scent with lemon zest, a touch of honeysuckle and flint.  Impeccable, racy and pure on the palate, with super-fresh flavours of lemon on the attack leading through to a slightly creamy orangey mid palate.  Finishes long and mineral with a hint of aniseed.  Quite extraordinarily fresh and youthful for a lieu-dit almost 20 years old.  Super.
1988 Bievenues Batard, Ramonet
97/100 (RV)
Certainly a contender for wine of the evening, and one of the most delicious white Burgundies I have drunk in a long time.  Also the best Bienvenues I can ever remember drinking.
Delicate nose initially.  A layered aroma which hinted at cream, eggnog, brazil nut and orangeflower was gradually revealed.  As lovely as the Gagnard Delagrange and Roulot were, this is in a difference league for finesse.  Sensational, pure, long, creamy palate also with spices like cinnamon overlaying pure citrus and honey fruit.  Medium weight but super-fine and extremely long, with a brisk, dry finish.  Wow.  Mature, but if stored like this, no rush to drink up.
1997 Puligny Montrachet 1er Cru Combettes, Sauzet
88(?)/100 (RV)
Somewhat controversial, with some tasters deciding this was not correct.  Bright yellow gold hue.
Unusual nose – cheesey, with honey and a waxy spice aspect that makes one wonder about botrytis.
Flavours of yellow fruit with overtones of smokey bacon.  Frazzles ?   After the purity of the two preceding wines this was hard to accept; on its own I think it would have found a more favourable reaction.   Barkers (Richard Berkley-Matthews) thought it faulty as did Mike Laing.
1985 Gevrey Chambertin 1er Cru Clos St Jacques, Rousseau
96/100 (RV)
Very generously brought to dinner by 'Major Silk'.
Another obvious contender for wine of the evening on reputation – and so it proved from the glass.
Modest ruby garnet colour.  Fantastically complex nose featuring incense, spice, sage, sandalwood, red fruit and a hint of menthol.  On first tasting this seemed quite taut, but it developed in the glass into a more opulent wine, albeit one perfectly poised between the savoury and the sweet.  An abundance of flavours including smokey raspberry, nutmeg, clove, liquorice and herb.   Complex, and perfectly mature, but with great precision.   Not a blockbuster, but huge finesse.
1998 Barbaresco Santo Stefano Red Label Riserva, Giacosa
93(+?)/100 (RV)
Really pretty deep ruby.   A quantum leap from the delicacy of the Rousseau, this was 100% Piedmont with very intense pungent, slightly volatile scents of violet, spice, earth, gunflint and hairspray.   Full bodied.  A powerful melange of blackberry and apple pie fruit combining with deeper flavours of plum duff, Dundee cake and liquorice.  Very youthful.  Very, very good – but not especially charming at this stage.  Quite hard to judge after a truly great red Burgundy a decade+ more mature.   I may be being mean with my score.
1971 Barbaresco, Gaja
95/100 (RV)
Considerably more subtle than the Giacosa; doubtless due to maturity.  Nonetheless this had intense scents of smokey herb, undergrowth and violet, with just a hint of caramel softening the impact.
A big wine, but with a lovely texture not found in young Piedmontese wines.  Intense, spicy, savoury, liquoricey flavours.  Very long on the palate.  Dry but not aggressive.  Splendid, fully mature Nebbiolo.
1998 Tokaji 5 Puttonyos, Royal Tokaji Company
92/100 (RV)
A bit of an afterthought after a fairly decadent evening, but a nice one.
Medium gold plus colour.  Muted nose initially but with notes of green hazelnut, honey and vanilla emerging.  Rather noble nose.  Luscious palate with zippy acidity well balanced with creamy orange and strawberry fruit.   Full bodied, intense and sweet, but not cloying.